The article 'Buried under projects'¹ describes some very interesting aspects of the day to day work of our organization. The questions that often arise in a discussion about the current situation of management and staff are:
When did we start to feel like we go from one change to the next with the many change/transformation/transition projects? When will it finally end? How will it work in the long run?
As a former manager and as an organizational consultant and trainer, I've been moving through change landscapes in various industries, such as banking, trade and energy, for almost 30 years. I grew up in a working world before emails, Excel and Power Point. Fax had just arrived. There was pressure for change in the credit institutions, to respond to new developments. From today's perspective, the speed and number of changes were much lower. The stresses described in the article are familiar to me from my time as a manager. It's apparent from the experiences of people in the organizations and personal observations that the feeling of being 'buried under projects' has increased in recent years. And it affects managers and staff equally! One aspect or sign is surely the high level of expectation on response times to emails, texts, Whatsapp and other forms of communication. It's made everything quicker. The use of written forms of communication has, in addition to the developments mentioned above, reduced the quantity and quality of personal communication.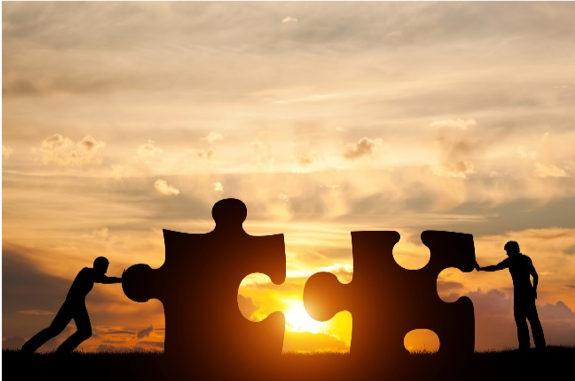 And then there's the worry about your own job, which can lead to a personal pressure to adapt. These spirals can create negative patterns that can grip the whole organization. The following phrase is not uncommon in discussions with all levels of an organization: "I am only following…" Staff and managers say this and even directors or board members are unclear who will make a start, break the pattern and be the first to emerge from the tunnel?
In its strongest form it can be considered organizational disorder. Just as the human organism stores 'learnt pain' in its cells, the 'organizational body' forms a memory of it. Therefore the first important key lies inside each one of us:
So the motto can be: "The one who complains is the patient" or "if I change myself, then I change others and the situation."
It's wise to accept this development first as a new framework; to assume a new inner attitude and so to avoid losing any (negative) energy and power in something, which (alone) cannot be changed at present. It's about finding new solutions for yourself and your organization. When you have pressure at work, what's paramount is not the 'to do list', but your individually perceived opinion, your inner perception. Everyone deals differently with the pressure and stress it generates. Everyone has their own coping strategy.
The second important key is in your emotions and learnt patterns of behaving and thinking. It's about managing my own relationship- the relationship I have with myself and with the other partners. Important factors that everyone can develop, learn and use for themselves are overcoming conflicts, actively using opposition and blocks, operating inter-culturally and actually integrating work-life balance. Work life and private life will at last be a harmonious whole. It's not easy, but it's worth it!
Foto:
© Photocreo Bednarek